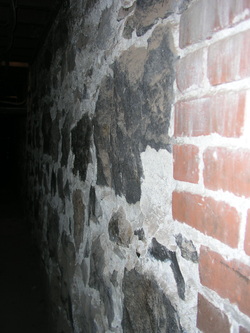 Summary Description of Today's
Shanghai Tunnels/Portland Underground Tours

---

These are educational tours of the infamous 'Portland Underground' that focus on the shanghai trade in the City of Portland that survived from 1850-1941, as well as white slavery, prohibition, and even the turn-of-the-century history of the Industrial Workers of the World (I.W.W.) labor movement in the Northwest. In addition, the early history of the Chinese is covered, along with the Japanese and the Gypsies (during the Ethnic History Tour). These tours are operated by the Cascade Geographic Society (CGS) and provide a unique glimpse back into the hidden (or buried) past of the City of Roses.

The basic tours (Heritage, Ethnic Heritage, Ghost Tours, or any combination) take approximately an hour and a half, and participants are with a guide at all times. The tour-goers receive an above-ground orientation; the guide then leads participants into the Portland Underground, where they will receive the majority of the historical and oral history about this infamous maritime practice that gave Portland a notorious reputation throughout the world. Tour participants must be able to handle one set of stairs that lead to and from this hidden world. In addition, there will be dust, dirt, musty smells, and anything else that would be associated with this type of environment, so if you need a dust mask, please bring one. We provide flashlights, or you may bring your own, as long as it doesn't exceed two D-cell batteries.



WHAT YOU WILL SEE ON A 'PORTLAND UNDERGROUND' TOUR:

You will see several segments of the once-hidden world of shanghaiing; remnants of this shocking maritime history --- unique architecture, underground holding cells, a deadfall trapdoor, the walk-through remnant of a shanghai tunnel, unearthed artifacts of this terrible, misguided labor practice, and more. The physical space is under four buildings, but represent the much larger former network.


THE TOURS OF THE "PORTLAND UNDERGROUND" TAKE PLACE IN:

Old Town-Chinatown, what was known back in the days of shanghaiing as the "Old North End".


ENTRANCE TO THE "PORTLAND UNDERGROUND"

Hobo's Restaurant* in Old Town, at 120 NW Third Avenue (zip code 97209). Thanks to the owners, the tours of the infamous "Shanghai Tunnels" utilize an interesting entrance into this hidden world of darkness and shadows where Portland's secret history still hides.


*Please note: Hobo's Restaurant does not schedule/receive reservations for the tours.